Fakro Attic Stairways
Uninhabited attic space is very often used as an extra storage space. Access to the attic must be safe, because very often large objects are carried to and from  the attic. Fakro attic ladders are specially designed for this purpose, guarantees comfortable and solid access to the attic.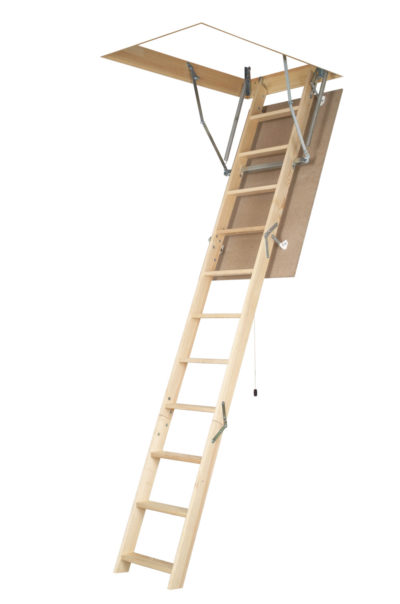 OLN Model Attic Stairways – Ladder
OLN model is a durable 250 LB load capacity ladder. As the ladder is being opened up the hinges automatically adjust the ladder away from the door to create a space between the ladder and the door, allowing immediate use of the stairs without any  adjustments.
Max load: 250 lbs
3/8" thick particleboard door with string
When attic stairs door opens, side springs drop along with it allowing wider and more comfortable access to the attic (the widest entrance on the market)
Small weight and innovative method of the hatch catching onto a "click fastener" allows for attic ladder installation by one person
New design ensures greater rigidity and stability of the ladder
The door is well balanced it opens and closes easily (NO SUDDEN MOVEMENTS)
Specially designed frame allows fast and convenient trim installation
Paintable door surface to match finished ceiling
Additional accessories e.g. plastic ends available separately
One (1) year 100% warranty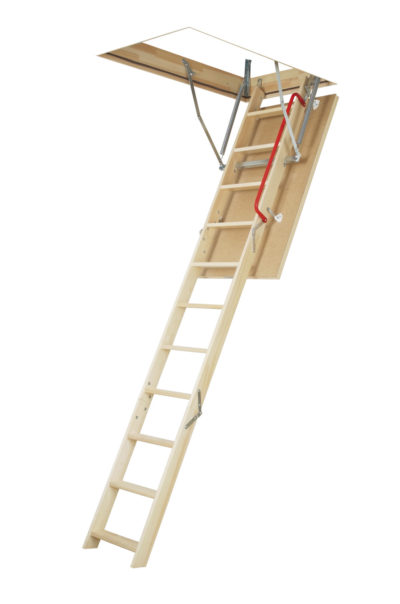 LWS-P Model Attic Stairways – Ladder
The LWS-P model is an insulated ladder made of pinewood. It allows access to otherwise unusable attic spaces without the hassle and clutter of an extension ladder. Each unit is equipped with a handrail which assists in climbing up and down the ladder.
Max load: 300 Ibs
1⅜" thick insulated (sandwich type) wooden door helps to reduce energy cost – approximate R value 5.9
Red metal safety handrail included
No installation hardware is visible on the smooth paintable outside door surface

New design ensures greater rigidity and stability of the ladder

As the ladder is being opened up the hinges automatically adjust the ladder away from the door to create a space between the ladder and the door, allowing immediate use of the stairs without any adjustments
Small weight and innovative way of hatch fastening with so-called click allows for ladder installation by one person
The door is well balanced it opens and closes easily (NO SUDDEN MOVEMENTS>
Metal opening and closing rod included
Additional accessories e.g. plastic ends available separately
High quality materials and craftsmanship
Two (2) year 100% warranty
View a Fakro Attic Stairways Installation Video