Typar MetroWrap
For commercial applications. TYPAR MetroWrap stands up to the rigors of commercial construction with superior performance and toughness.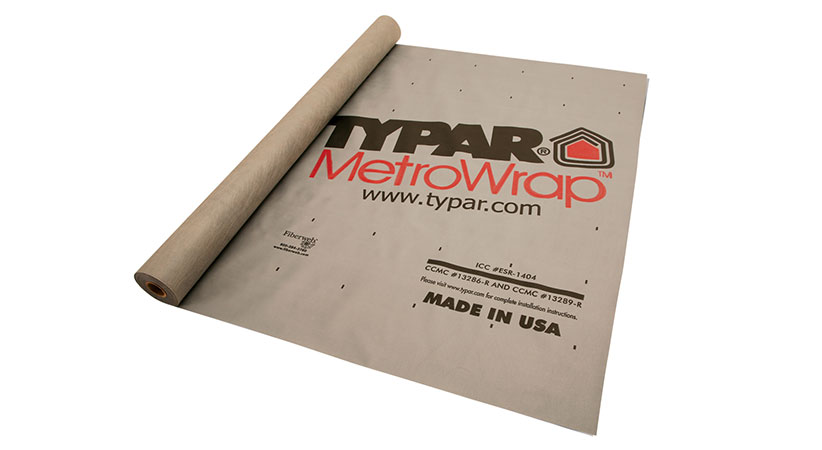 TYPAR MetroWrap offers all the great benefits realized with TYPAR BuildingWrap, plus provides special advantages ideal for multi-family dwellings, light commercial applications and large commercial structures.
TYPAR MetroWrap delivers five key advantages you won't find with other construction-grade wraps:
Enhanced UV resistance – up to 12 months of protection from UV degradation from the sun. This makes TYPAR MetroWrap an excellent choice for evolving construction schedules and an interim environmental barrier for interior construction.
Best water holdout – protects interior environments during and after construction from air infiltration and damaging water.
Best surfactant resistance – handles exposure to harsh chemicals and cleaning techniques found on commercial jobsites.
Will not support the growth of mold (ASTM D3273) or degradation of interior air quality
Excellent air barrier – reduces energy costs over time; protects interior during construction.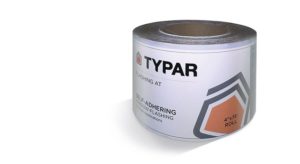 Flashing AT (All Temperature)
Flashing AT provides protection against moisture penetration at windows, doors, and thru-wall entry points.
Count on maximum adhesion to OSB, plywood, aluminum, vinyl and the weather resistant barrier – even in extreme temperature conditions.
• Suitable for installation down to 0°F
• Thermally stable up to 180°F
• Capable of adhering to wet surfaces
• Exceeds current AAMA 711 standards
• Self-sealing around nail penetrations
• Split poly backing for easy install
• No primer required
• No VOC, NFCC or CFC
• 2-year shelf life
• 10-year limited warranty*
Typar Flashing RA
A rubberized asphalt flashing that is an affordable choice with best-in-class performance.
It has all of the advantages of TYPAR Flashing BA while offered at a lower price.
• Rubberized asphalt (RA) flashing
• Best in-class performance
• 10-year limited installed warranty*
NOTE: Many commonly used sealants and caulks contain solvents and plasticizers which can react with the rubberized asphalt adhesive on flashing. Make sure caulks or sealants coming in contact with the adhesive portion of TYPAR Flashing RA
do not contain plasticizers or solvent. This includes most polyurethane and silicone caulks.
Typar Flashing Flex
A conformable, composite peel and stick flashing product, ideal to flash around curved windows. Use it on window flanges, sill plates, corners and joints to improve air and moisture holdout. Based on a two-ply oriented high density polyethylene film, mated to a premium butyl rubber adhesive and release sheet.
• Ideal to flash around curved windows – also on window flanges, sill plates, corners and joints
• Improves air and moisture holdout
• 2-ply oriented high density polyethylene film – mated to a premium butyl rubber adhesive and release sheet
Finish Right with TYPAR Construction Tape
A strong, coated polypropylene film that seals seams and edges to ensure the integrity of the building envelope. Use it on window flanges, corners, joints and seams to improve the building envelope and air and moisture holdout. Won't deteriorate over time providing years of reliable performance