Wedi Shower Systems
Wedi waterproof shower systems offer the only complete, reliable, cost-efficient solution for constructing 100% waterproof and mold proof showers.
WATERPROOF – unlike other shower pans and backer boards Wedi is 100% guaranteed waterproof.
MOLD & MILDEW PROOF – Wedi is made of material that mold cannot feed on.
EASY TO INSTALL – Wedi is installed much faster than other products and requires less man power, saving labour costs and speeding completion times.
LIGHTWEIGHT – Wedi is made of light weight polystyrene foam and can be easily cut on site with a utility knife.
GUARANTEED – Wedi backs their products with a 10yr Limited Warranty.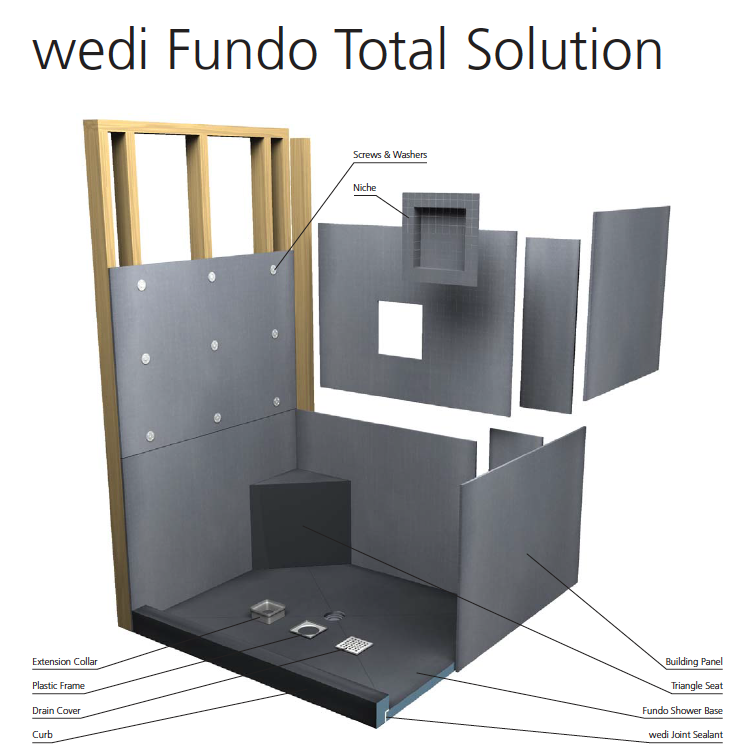 Wedi thinks and creates systems for added value in the wet room. The wedi shower kit is a one-box only complete kit for the creation of a corner shower that is level with the floor.
It contains all materials that are required for a watertight corner shower: a reliable floor construction consisting of a floor element, drain system, wedi building board wall solution as well as sealing and installation accessories.
Safe transport in a box
Perfectly matched
Complete peace of mind for installers and end users

Content of Wedi Fundo Primo Shower Kit:
1 Wedi Fundo Pan
Wedi building board to cover up to (3) 80″ walls
1 Drain assembly
1 Full foam curb
Wedi Joint sealant
Fasteners
Wedi putty knife
Includes wedi installation DVD
Wedi Shower Building Panels and Accessories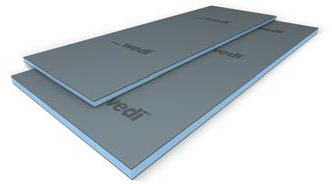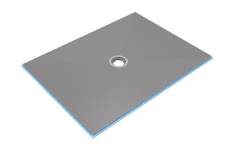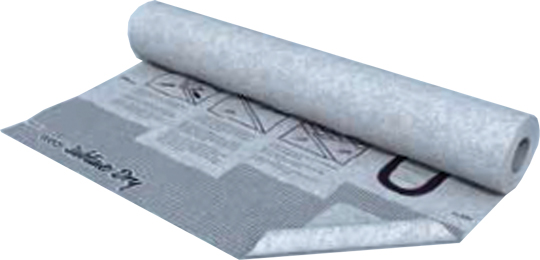 Wedi Building Panels
The Wedi Building Panel combines the benefits of the latest manufacturing technology and material quality with sound and traditional benefits our trades enjoy.
The Wedi Building Panel can be tiled with all types of ceramic, glass or stone tile whether they are mosaic or large format tiles. Especially large and thin tile benefits of the durability of the Wedi Building Panel and the even surface it provides.
100% waterproofing blue core, made from CFC-free extruded polystyrene closed cell foam
Compatible with virtually any stable substructure
Protects against mould and mildew
No limitation to use of cement based thinset mortars and grouts. Product works perfectly with polyurethane or epoxy based grouts.
Extremely lightweight
High insulating properties
Wedi Fundo Ligno
The floor-level shower bases designed for use with timber floors, and with outer edges of only 20 mm. Unlike traditional shower elements, the Fundo Ligno has been adapted to be integrated into a wooden floor covering – without building up further height and without time-consuming levelling measures it fits into its environment perfectly.
The tileable floor units are not only highly practical and reliable, they have opened up a whole new world of design possibilities for wet rooms and bathrooms.
A uniform predefined slope
Entire system is 100% waterproof
Simple and safe to work with – tested by those in the trade
Wedi Recessed Niche
Wedi prefabricated niches are fabricated from ½" Building Panels for strength and come in five different size options.
The perfect fit for all your shower necessities, our niches install quickly and safely, and integrate flush into the wall panel assembly with Wedi fasteners and Wedi sealant. Shelves, included in some models, are flexible and can be installed exactly where they will fit your design best.
Wedi Subliner Dry
Thin-layer, crack-bridging sealing membrane made from highly tear-resistant polyethylene film that ensures excellent adhesion of tile-setting compounds thanks to its special fleece layer on each side. This product can be used with ceramic tiles and slabs and with natural stone cladding for internal walls and floors to provide quick sealing for projects with a tight deadline.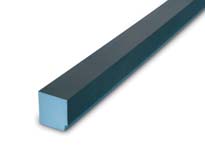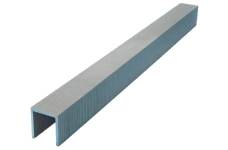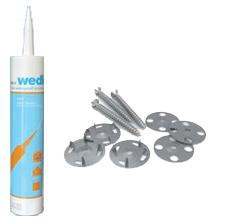 Wedi Curb
Wedi Full Foam Curbs combine it all in one element when compared to traditional methods of 2' x 4' wood assembly, lath, mud and waterproofing. They come presloped so water runs back into the shower.
Wedi Curb Over
Wedi Curb Overs are designed to water-proof over existing 2' x 4' wood constructions. A conventional PVC pan liner is sandwiched inside between the 2' x 4' and the Wedi Curb Over. The Wedi Curb Over will provide additional water-proofing and square corners for a perfect tile job. No fasteners should penetrate the curb except on the vertical outside of the shower. Attach with thinset mortar only.
Wedi Shower Ramp
The Wedi Shower Ramp is used to create curbless showers without recessing the shower base into the subfloor. The ramp provides a 1"slope over a 12" length and meets ADA requirements. The ramp should not be tiled with tiles smaller than 4" x 4" when wheelchairs are used in this shower.
Wedi Sealant and Fasteners
Wedi sealant forms water-tight seals on joints, seams and at installations and protrusions creating possible escape opportunities for water or water vapor ( i.e. shower valve cut out in waterproof Wedi wall Building Panel in shower installation). Its flexibility allows for dissipation of stress caused by shock, vibration, or thermal movement.
Wedi Fasteners and Insulation board washers are used to prevent the screws penetrating into the XPS foam.