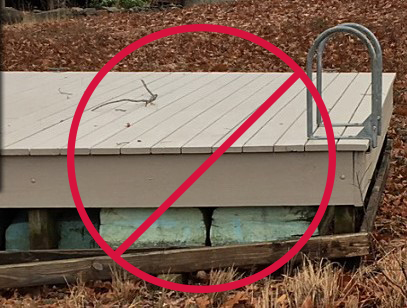 Techstar Dock Floats
Bill 228: The Bill requires persons who sell, offer to sell or construct floating docks, floating platforms or buoys to ensure that any expanded or extruded polystyrene in the dock, platform or buoy is fully encapsulated. LEARN MORE.
*Techstar dockfloats are built – fully encapsulated.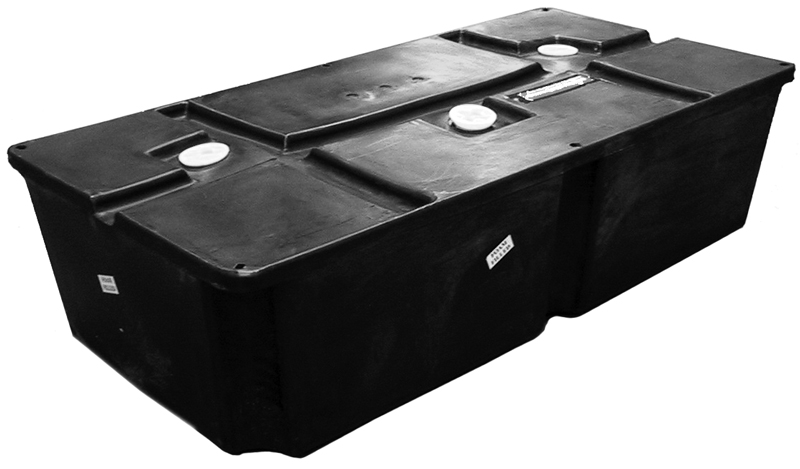 All Purpose Floats
Techstar All Purpose Dock Floats offer the maximum in design flexibility and economy.
Each float has 6 molded holes enabling you to lag your floats to your frame up from the bottom.
You can use any size framing lumber 2×6 or larger. 3 Different heights allow you to choose your freeboard.
Versatile and Economical floats
EPS foam filled (expanded polystyrene)
Both lumber and hardware stay out of the water
Foam filled for added security
Less labor to build your dock
3 different heights enable unlimited configurations
Polyethylene is environmentally friendly and gasoline resistant
Polyethylene is resistant to aquatic wildlife
Mounting holes are molded in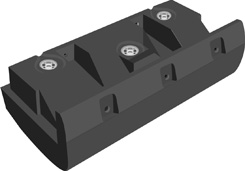 BF – 1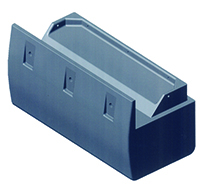 BF-3    

BF-2
Bumper Floats
Techstar Bumper Floats are a unique combination of dock bumper and flotation.
Designed to run the length of your dock on both sides, these floats will comfortably float a dock 8 feet wide.
For docks 10 to 12 feet wide we recommend one row of centrefloats and for docks 14 to 16 feet wide we recommend 2 rows of centrefloats.
A unique combination of dock bumper and floatation
Comfortably float a dock 8 feet wide
Dock Bumpers are built in as part of the float
Foam filled with closed cell Expanded Polystyrene for added security
Designed to run the length of the dock on both sides
Deck boards sit flush with top of the float for a clean finish
Polythylene is environmentally friendly, as well as gasoline and wildlife resistant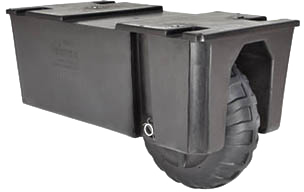 Wheel Float
Techstar's Patented Wheel Float  enables you to remove your dock effortlessly.
Just roll it right out of the water on to the shore!
Both 23″ wheel and float are filled with closed cell expanded polystyrene.
750 Pound wheel load capacity
Heavy duty 1 7/8" aluminum axle
Wheel is built right into the float giving it 575 lb flotation
Easy to assemble – 6 mounting holes
Compatible with both wood and aluminum docks
Float Dimensions 24" x 48" x 18" c/w wheel overall 24" x 48" x 28"
Shipping weight 72 lbs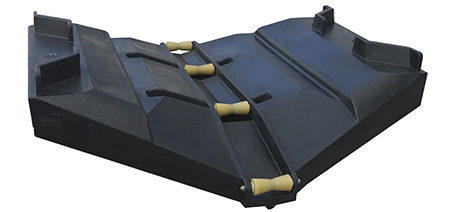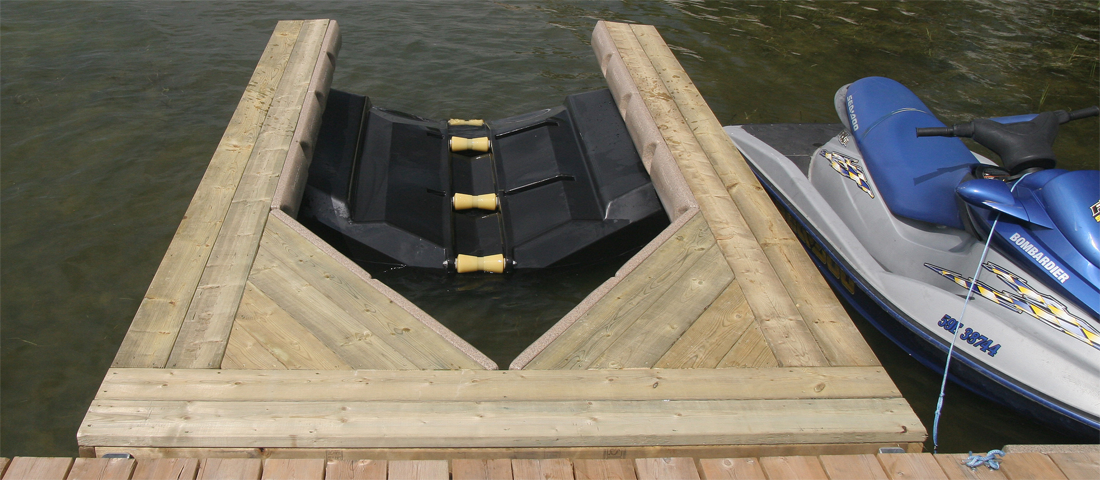 Personal Watercraft Float
Imagine a Drive On Roll Off float that blends in with your wooden dock.  The Techstar Model PWC-1 does exactly that.  Techstar supplies the float complete with 4 polyurethane rollers and you build the frame to suit your machine and deck it with the same wood as your dock.
Model PWC-1 allows easy drive on and roll off with your watercraft.  Ideal for small boats, you can also pull an aluminum up to stay dry while you are away from your cottage.
The sloped interior and recessed polyurethane rollers mean your PWC always sits in the center.
Overall dimensions – 81" Wide x 74" Long x 24" High
Inside width with Bumpers – 54"
Inside width without Bumpers – 59"
Shipping weight – 130 Pounds
Flotation – 1600 pounds
Polyurethane rollers on stainless steel axles and hardware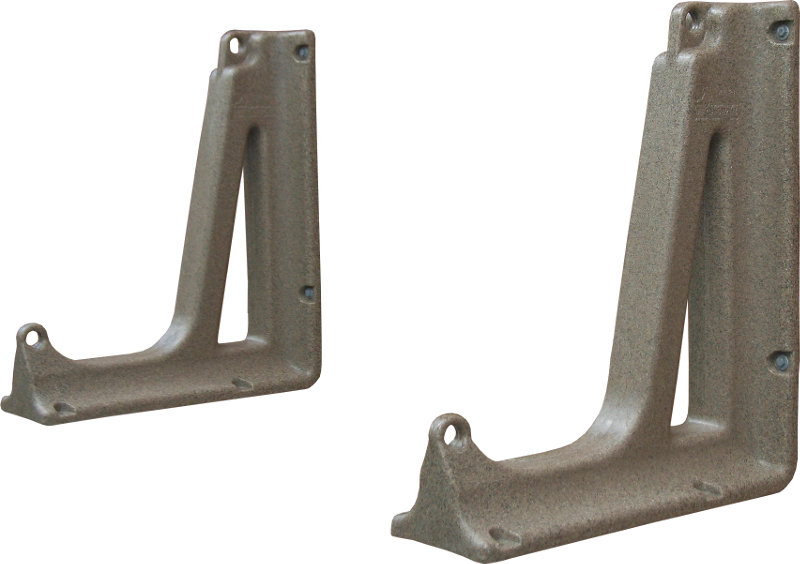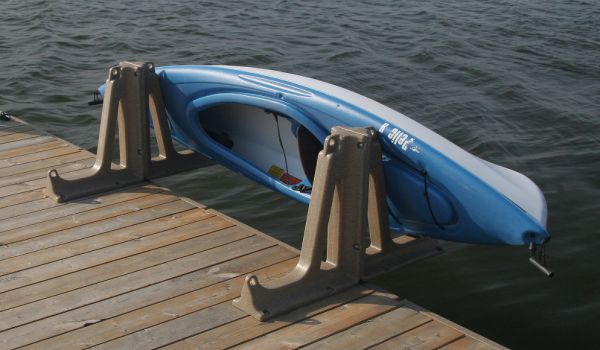 Kayak/SUP Rack
Save space on your dock and clean up your KAYAK/SUP storage with Techstar Racks.
Moulded in beautiful sandstone linear low density polyethylene (LLDPE)
8 Bolt holes per bracket (4 horizontal, 4 vertical) for easy mounting with 5/16" hardware
Paddle slots moulded in
2 Tie down loops per bracket
Suitable for Kayaks, SUPS (Stand up Paddleboards), Wakeboards and Skis
Warranty – 10 years
For Use:
Inside or outside
Deck or dock
Lawn or shed
Boathouse or garage
Single or back to back
Tiered on a wall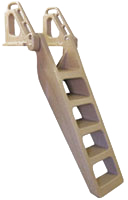 5 Step Dock Stairs
Techstar's 5 Step Dock Stairs are ideal for an aging population and families with dogs (see video). These stairs fill with water when submerged and drain when flipped up.
Grip rail runs up the back of the stairs.
Non slip stepping surface
Heavy duty handles
Distance from the top of your dock to bottom of your stairs – 55″
Shipping weight – 35 pounds
Model No. DL-5
Rated for people up to 350 pounds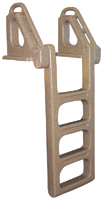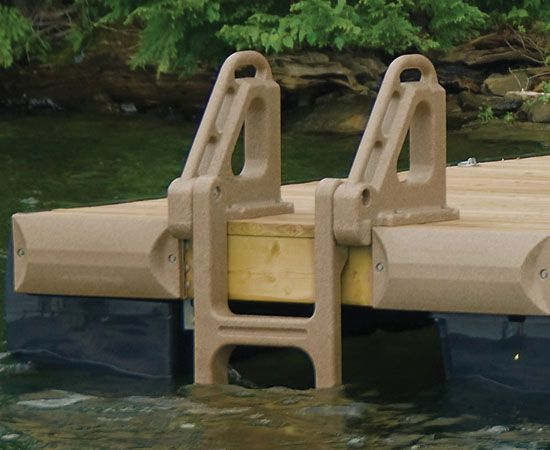 4 Step Dock Ladder
Techstar's Flip up 4 Step Dock Ladder is moulded in beautiful sandstone polyethylene. This ladder fills with water when submerged and drains when you flip it up.
Grip rail runs up the back of the vertical ladder.
Non slip stepping surface
Heavy duty handles
Distance from the top of your dock to bottom of your ladder – 45″
Shipping weight – 25 pounds
Model No. DL-4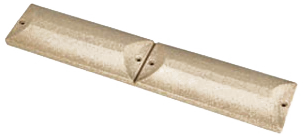 Bumper Boy Dock Bumpers
Protect your investment with Techstar Dock Bumpers. The BB-7 and BB-9 work with new docks or will easily retrofit most existing docks.
Works with new or existing docks
Comfortably float a dock 8 feet wide
Wide cover a complete 2×6 frame
Molded in lengths just under 4 feet, the 7 inch height
A full 3″ of protection between the dock and the boat
Low Profile Shoulder Float
Techstar Low Profile Shoulder Float is uniquely molded with a mounting shoulder and holes to bolt thru to your frame. They are ideal for all applications including commercial docks and large residential docks.
Low Profile Shoulder Float allows you to use any size framing lumber and bolt sideways thru a choice of 8 molded holes.
Now foam filled for added security.
12" of flotation sits under your frame
Many dock builders find this float the easiest to build with.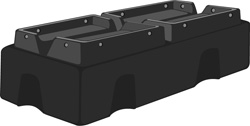 Heavy Duty Shoulder Floats
Techstar Heavy Duty Shoulder Floats are commonly used in large commercial docks. Perfect for marinas, two size floats accommodate finger docks 24", 30", 36" and 48" wide.
You can comfortably use large framing such as 2×12 or 3×10.
Model MF-3036 has 8 molded holes for ease of attachment.
Model MF-2448 has 12 molded holes.
Adjustable dock height with different frame heights.
Our toughest floats – 3/8" thick.
Molded cable trough.